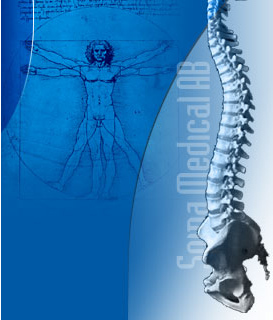 Spina-Bac - your help against backache and to prevent lumbago when sitting - a non-restricted, personalized support for better back posture!
Spina-Bac backsupport, internationally recognized since 30 years, designed by Swedish orthopedic experts for relief and prevention of backpain when sitting.

Shortcuts:

Watch a video about

Spina-Bac

(from our US web site) [Requires Adobe Flash Player]
Spina-Bacis especially appreciated for the following features and qualities:

adjustability
the contour supporting the back is easily adjustable to suit individual back curves.
"There are not two backs alike – that is why

Spina-Bac

is unique!"
rigidity
The design is firm and gives perfect support to the back, also when angled against the back of a chair, making it possible to sit relaxed in any position from upright to lying down.
size and versatility
The low weight and moderate size allows for easy use everywhere, at home, at work, in the car or when traveling etc.
The natural back posture is S-shaped.

It is important to maintain the S-shape when sitting to avoid increased disc pressure that can cause fatigue, neck- and backpain, lumbago or sciatica. Don´t slouch or sit sway-backed. Have your back well supported.
Sit relaxed if you can to prevent lumbago and other back problems.

To avoid backproblems caused by increased pressure, load and muscle tension, it is important to sit leaning backwards, with the back supported, not slouching. The healthiest sitting position for the back has, in medical studies, been found to be with a backward inclination of 110-130 degrees between trunk and legs. As Spina-Bac is rigid and adjustable, you can angle it in any inclination, making it possible to "taylor-make" your own chair. With the help of Spina-Bac you can create your own ergonomic and reclining chair.



Always have a firm and rigid support behind your back.

Spina-Bac doesn´t yield to or become compressed by the bodyweight even when it is angled out from the built-in backrest of the chair. It always gives a correct and healthy support to the back and doesn´t slide on slippery material e.g. leather, plastic or wood.



Product description

Spina-Bac

has a rigid base plate, 5 special steel springs and an adjustment mechanism that adjusts in height and depth to the contours of your back. High quality polyether padding and elegant fabric cover in 4 different colours give excellent comfort and durability. Ergonomic design, firmness and adjustability enables you to sit safe and well supported, wherever you sit.



Testemonials and users reactions
When you're pregnant your body is changing fast in a very short time. Especially the back receives an increased load when the belly is growing and the pelvis gets less stable. Spina-Bac was very helpful in creating a comfortable position in front of the computer at work during my whole pregnancy.
A new-born child eats frequently and for long durations and it is common that you breast fed more than eight hours a day in the beginning. Spina-Bac helped me find good positions when breast feeding and thereby I avoided tense muscles and pain in my neck and back. // Sara B., Sweden

Spina-Bac has changed my life – now I can sit everywhere without an aching back.
I take my Spina-Bac with me everywhere.

Spina-Bac makes every chair perfect to sit in, even my soft couch.

With Spina-Bac I enjoy driving my car for hours without getting tired in my back.

My Spina-Bac makes it possible to sit and read in bed without getting back-pain.

It is so nice to sit down, lean back and relax with my Spina-Bac.
Press